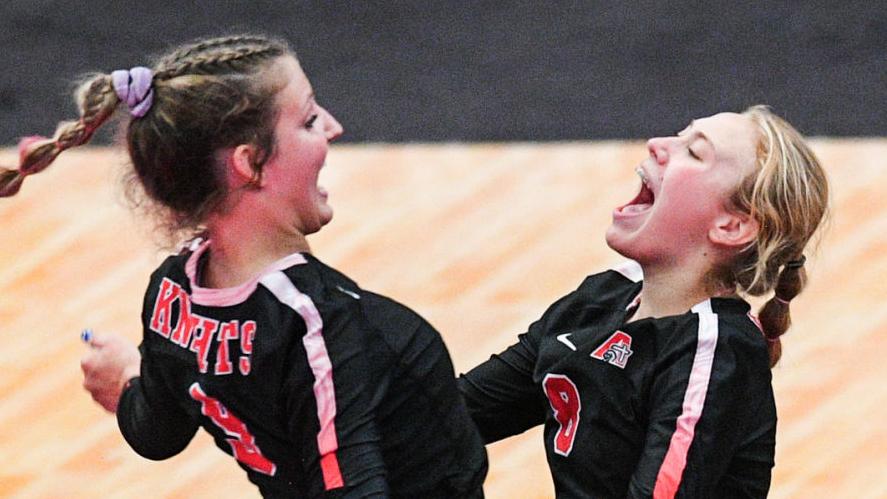 Top-ranked Knights overcome straight-set deficit to win in five | High school volleyball – QCVarsity.com
CEDAR RAPIDS – After two error-ridden sets on the verge of being swept away, Davenport Assumption coach Bre Scherler huddled his top-ranked volleyball team and spoke harsh words.
"There were curses involved," said junior defensive specialist Lily VanSeveren. "Mainly we had to get back on our feet, do what we do and remember that we are a good team. "
Assumption woke up from her sleep and rallied to win a Class 3A five-set quarterfinal on Tuesday morning at the Alliant Energy PowerHouse against Des Moines Christian, eighth, 20-25, 19-25, 25- 18, 25-19, 15-12.
What started as a struggle ended in euphoria for Assumption, who is in the semi-finals for the second season in a row. He plays fourth-ranked West Liberty on Wednesday at 2 p.m., looking to reach its first state championship game.
"Honestly, that gives us a lot of momentum for the next game," said junior forward AJ Schubert. "The smiles that we got on our faces afterwards, you can see that we really want to win this year and bring it home. "
It looked terrible after two sets.
Assumption (35-4) had 23 errors and negative hitting efficiency in each of the first two sets. There were 15 unusual serve errors in the game.
"We looked like a very inexperienced team that was going to come forward for the first time," said Scherler.