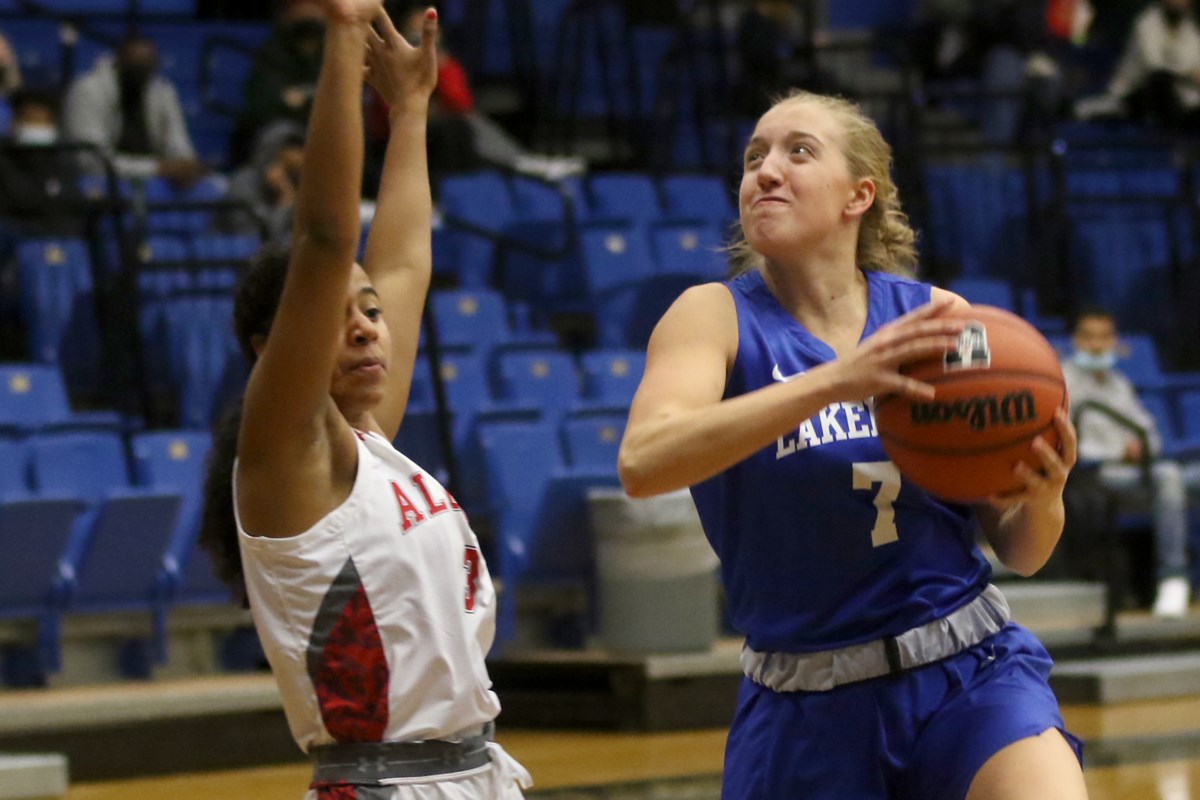 T-Wolves overcome slow start to rout Thunderbirds
Ally Burke of Timmins led the way offensively for Lakehead, scoring 13 points in their 26-point triumph.
THUNDER BAY – Going to bed early and waking up early sounds good in theory.
This is probably not a good plan for basketball teams.
The Lakehead Thunderwolves, facing the Algoma Thunderbirds for the second time in 5 p.m., were slow at the start of Sunday's rematch, but regained their composure in the second quarter and earned a second straight unbalanced victory at CJ Sanders Fieldhouse, knocking down their opponent 66-40.
Timmins, Ont. Rookie Ally Burke, a native of coach Jon Kreiner's hometown, led all Lakehead scorers with 13 points and said the team relaxed a little too much at the start, giving the Thunderbirds a little more time to think about their options. with the ball while protecting it.
"I think part of that is that we didn't apply the pressure because (last night) we had a lot of steals and layups, so we started a lot earlier. We didn't start this game until the second quarter, "said Burke. "We just had to keep playing defensively, even if we didn't get that many baskets in the first quarter.
Thunder Bay's Hana Whalen, who came off the bench to score seven points and post five rebounds, said it took a little while for her to start, with the 11am start being a bit out of the ordinary for the two teams.
"I think we definitely worked well as a team a bit later and once we started implementing our press it definitely gave them a hard time," said the second-year goalkeeper.
"Throughout our offensive struggles we stayed true to our defense and helped each other out with our support from the gap and I think that really helped us get under ourselves."
The Wolves shooters, who weren't good for a second straight night, came to life in the second quarter, turning an 11-8 lead into a 38-20 halftime advantage.
A 13-0 run in the third put him out for good.
"If it hadn't been for Ally and Hana today, our shooting statistics would have been appalling. We've certainly talked about being a team through a committee that has to shoot in the 50s or close to 50 percent. Last night we were at 41 percent and we had a quarter today at 58 percent, "Kreiner said. "We definitely had looks and I think that's what we need to look at. The quality of our shots on most of our looks was decent.
The Thunderbirds, who only managed 79 points combined in the two games, were led by former LU center Megan Looney, who finished with a high 16 points, completing the double-double with 11 boards.
Thunder Bay native Allison Read had two free throws and two runs in the game, while former Westgate Tiger Keyra Gallo was left off the scoresheet but had three rebounds in 15 minutes of time on the ground.
Wolves will start the OUA regular season Nov. 4 on the road against McMaster. Their home opener is the following Friday when the Brock Badgers invade CJ Sanders Fieldhouse.