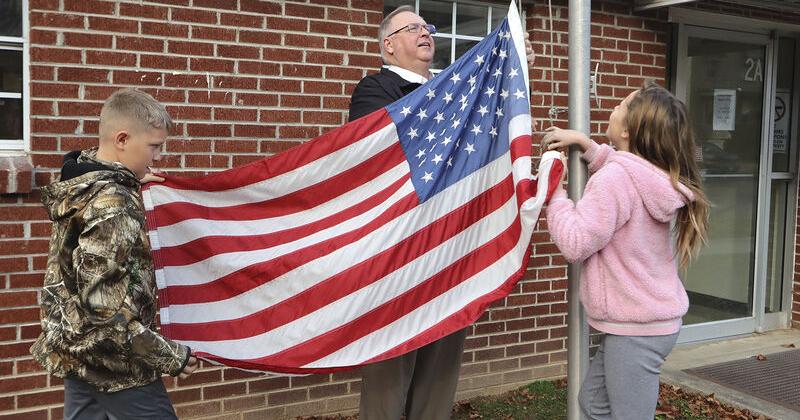 Summers County Students Benefit From Communities In Schools Program | State and region
hinton – West Virginia's child poverty rate in 2019 was 19.6%, according to the Census Bureau, placing the state seventh among all states.
That, combined with the problems associated with the pandemic, has created hardship for many families across West Virginia, leaving students without access to necessary resources.
Summers County has been hit hard by poverty: 21.1% of the county's population live below the poverty line, about 3% above the state average.
In response, all schools in Summers County are now part of the national Communities in Schools program designed to provide students with a supportive community that enables them to excel in school and in life.
One component of the program specifically targets students in need of extra help, such as those living in poverty or at risk of dropping out.
Renae Jones, who oversees the Communities in Schools program across the county, is happy the program has been effective.
"We are grateful to be part of the Communities in Schools program now. It has already helped so many of our students and will continue to help more, "Jones said.
Communities in Schools is an initiative that found its place in West Virginia through the work and influence of First Lady Cathy Justice. Each year, the West Virginia Department of Education adds additional counties to the program with the support of the Governor, the First Lady, and the Legislature.
Summers County has four Community in Schools facilitators. Susie Hudson and Stan Unroe serve as site facilitators at Summers County High School 6-12. Larry Cochran serves as a site facilitator for Hinton Area Elementary, and Joy Bowling serves as a site facilitator for Jumping Branch and Talcott elementary schools.
"I am so grateful for the work the site hosts are doing," Jones commented. "They have a very positive impact on the lives of our students. They always have good ideas and know how to implement them.
The four facilitators on the site work directly with students providing them with any resources they might need depending on the level of student support. There are three levels of support.
The first level includes school-wide services and resources provided by site facilitators to all students, such as necessities, group / club opportunities, and school-wide assemblies. such as professional, trade and university fairs.
Level two services are programs targeted at groups such as academic tutoring and attendance programs. Due to the chronic absence of 50 percent of Summers County students, leaders have a county-wide goal of reducing chronic absenteeism this school year.
Level three services are those that students receive each week. These students are case-managed and receive direct services such as one-on-one academic tutoring, mentoring, goal setting, crisis intervention, and life skills to track student progress. Currently, Summers County schools have approximately 125 case management students in their Communities in Schools program.
The Patriot Club is one of the Hinton Area Elementary School Communities projects. Larry Cochran involves a group of students asking them to help him hoist the flag every day. This is an example of level 2 support.
"The students really enjoy helping Mr. Cochran hoist the flag every morning in the Hinton area. It's a great way to keep students engaged and give them something to look forward to. The bottom line is that the site hosts make those social and emotional connections with the students, "Jones said.
Another project of Communities in Schools in Summers County is the "Superpower of the Moment". Joy Bowling helped Jumping Branch Elementary Principal Kevin Green give a presentation to their students, teaching the importance of persistence and adding fun by giving each student a pair of superhero socks. This is an example of first level support.
Summers County Communities in Schools facilitators provided some families with basic necessities such as non-perishable foods, clothing, toiletries, holiday meals, holiday gifts, water heaters, dishes, furniture and bedding. Animators at Summers County High School also provided laundry services to students who needed it.
One of the Summers County High School site leaders and retired Summers Middle School principal Susie Hudson says meeting the needs of students is something she enjoys.
"It's one of the most beneficial jobs I've had in the school system, mainly because I was a teacher and administrator. Both are different from the job I have now, "said Hudson.
"The goal is to be able to sustain that emotional state our students need and to be there for the things they need. Sometimes they just need to talk to someone, "Hudson said.
Families wishing to learn more about the communities at the school can contact their school facilitator.
Follow on Twitter: @LawsonJonesWV