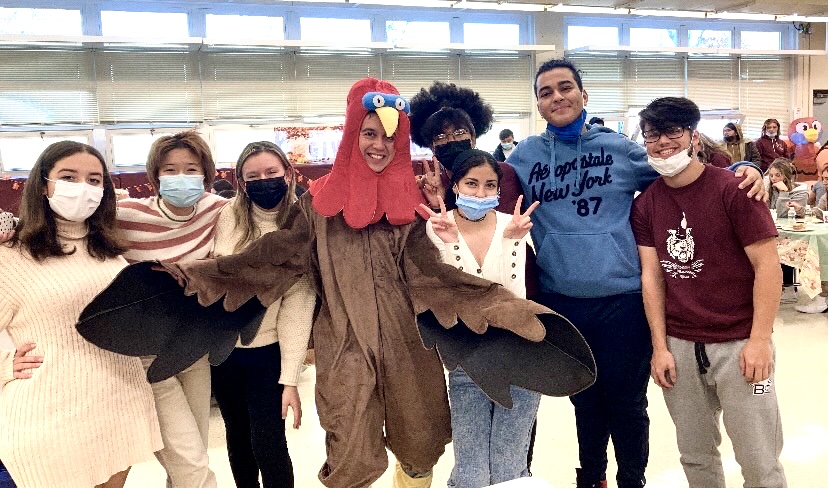 Students Team Up For Triumph – The Bird's Eye View
To spice up the Thanksgiving festivities in Becton, a new tradition has emerged known as the Turkey Trot! As part of this first annual event, faculty and staff entered into a friendly competition to raise funds for the Freshman and Sophomore classes. First, a Google Form was sent to staff to collect attendees and generate interest in fundraising. A bulletin board was posted in the main entrance of the school next to the JW PAC. It was characterized by turkeys with images of staff like turkey faces; some were stupid and some were serious about winning. When it comes to how fundraising works, every dollar raised is equivalent to a feather to decorate staff turkeys. The staff member with the most feathers on his turkey on November 23 was able to dress up as a turkey and make special appearances throughout the school day. The fierce competition sparked discussions in the building, prompting students to rally for their choices.
Ms. Stacey Oram, one of Becton's top special education teachers, was a finalist in the Turkey Trot fundraiser. Ironically, Oram did not submit his name to the contest; she was nominated anonymously by someone else. Contrary to her expectations, she collected more feathers than the majority of the participants! Oram shared that she and other teachers would laugh at the number of feathers added during the contest. As for the driving force behind the competition, the students' loyalty proved to be loyal to their teachers. Oram said the most memorable part of the Turkey Trot was "… how excited my students were and how expressive they were. My students and I have a great relationship so it was fun. As well as adding how shocked Oram was at her students' willingness to see her in a turkey costume, she had a blast serving as the main driving force behind the fundraiser!
In the first place was Mr. Thomas Sansone, having raised nearly $ 300 on his behalf through his
students. When he first registered, he expected stiff competition among teachers. However, he shared, "… my students quickly made sure no one else had a chance to win." Amid the feelings of happiness and confusion, Sansone made his way running and lightening the mood of everyone he met. He felt supported not only by every student who raised money just to see him in a turkey costume, but also by other teachers for letting him visit their classrooms to boost student morale. He even made a special appearance at the NHS Spelling Bee between high school students in Becton and Rutherford housed in the JW PAC. "My most memorable moment was [probably] make an appearance in the spelling contest… I wanted to pretend I had "lost" myself and found myself on stage. I think my special appearance relieved the stress there as well. It certainly is, as laughter erupted throughout the auditorium and confused expressions painted the faces of the NHS students. In addition to making appearances not only at the Spelling Bee but also at the Senior Thanksgiving Feast celebration, Sansone incorporated a personal aspect into her day of shenanigans with her marching band students. "I would see one of my students in the hallway, then I would 'fly away' as they chased me, but I found good places to hide. My students told me, "It shouldn't be that hard to find a man almost 6 'tall in a turkey costume." He expresses his gratitude by saying: Support and fundraising! Obviously, Sansone's relationship with his students goes beyond loyalty and translates into numbers.
The Turkey Trot 2021 has certainly turned out to be a successful and enjoyable fundraiser for the Freshman and Sophomore classes. The event emitted themes of friendly competition, humor and, of course, gratitude. Due to its success, this year's Turkey Trot is unlikely to be Becton's last. The festivities provided a smooth and happy transition to Thanksgiving break for all members of the Becton community to celebrate gratitude at home with friends and family.