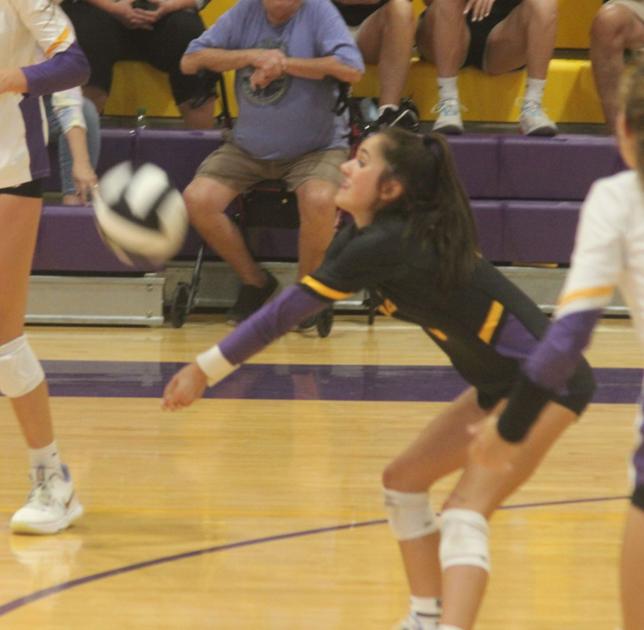 Saints overcome Hornets' strong start | heraldry
ANGOLA – The Angolan volleyball team put in an impressive first set in their home opener in 2021 to defeat reigning Class 3A state champion Bishop Dwenger on Wednesday night. But the Hornets couldn't compete with the Saints the rest of the way and Dwenger won the non-conference game 25-27, 25-14, 25-21, 25-11.
The Hornets (1-1) took a 4-1 lead in the first set, then the set was tied until the end. The Saints have also scored three straight points after falling 20-17.
Star players from both teams, Notre Dame sign Eva Hudson for Dwenger and Morgan Gaerte for Angola, traded kills for much of the home stretch of the first set.
Angola scored three of the last four points to end the game. After a Saints' service error, the Hornets took the lead 26-25, a shot from Bishop Dwenger from a Gaerte peak went over the net, and Angola's Heidi Faramelli put him to death to give the home team the victory in the first set.
The second set did not start well for Angola as the Saints, ranked 3A (3-1) took an 8-4 lead. The Hornets tied for four, then Bishop Dwenger scored the next five, topped with a victory for Kristin Bobay. The Saints continued to flee from there.
"Their experience and maturity has shown and our inexperience and immaturity has shown," Hornets coach Lloy Ball said. "They continued to improve a bit as the game progressed, and we continued to get a bit worse.
Angola played a little closer in the third set, but couldn't slow Dwenger the rest of the way. The Hornets had a lot of young players in the game in the fourth set.
Ball said his team had a lot to do, including developing a more complete offense outside of Gaerte and junior Brea Harris.
"We started with great energy. For the most part we played hard, "Ball said. "We know (Dwenger) it's them. We don't yet know what we are.
The Hornets travel to New Haven on Tuesday. Their home games with East Noble scheduled for today have been postponed as COVID-19 has impacted the Knights' schedule.