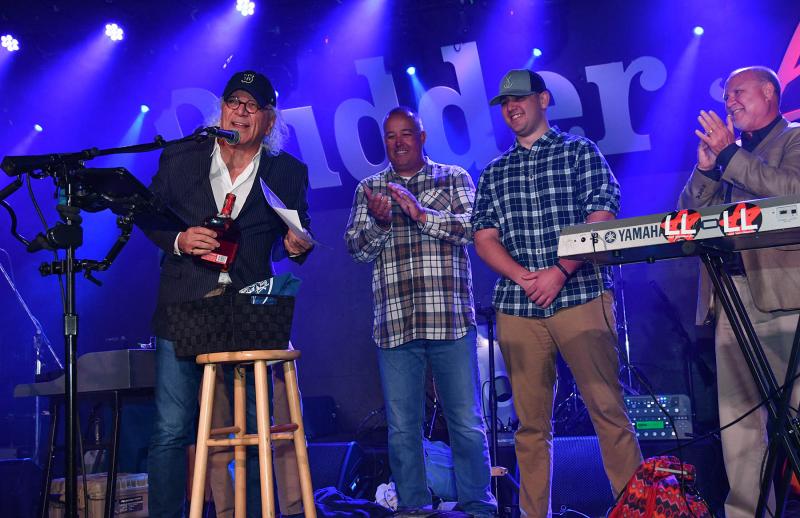 Rudder benefit raises funds for Dewey fire victims
Patrolman Jack Kane's family and friends joined him in the celebration. Pictured are (lr) Mary Kate Kane, Taylor Elliott, Officer Jack Kane, Ann Kane, Ted Pfarrer, Patti Pfarrer, Lauren Ruoff, Tara Ruoff, Brittany Freel, Mary Ruoff and Paul Ruoff.
Alex Pires congratulates Officer Jack Kane as Dewey Beach City Manager Bill Zolper and Lt. Billy Hocker look on.
Having a great time at the event are (lr) John Snow, Nate Graulich and Alex Pires.
Enjoying the outdoor terrace are (lr) Tiffany Patterson, Christina Schoppe and Carmel Monfiletto.
The Ginger Trio entertains the crowd at the event.
Host Chris Diller, right, thanks Alex Pires for benefiting him and others affected by the fire.
Dining at the event are friends and family of Officer Jack Kane (lr) Taylor Elliott, Paul, Conor, 2, and Brittany Freel, Mary Kate Kane and James Freel, 4.
Locals at the event are Mark Willhoite, left, and Jim Allen.
Clark Cummings sang a mix of covers and originals at the event.
Anjelique Buckley of the band Benderz sings a tune during the Benderz set on the Rudder stage.
Anjelique Buckley of the band Benderz sings a Beatles cover.
Clark Cummings sings a ballad cover.
Nancy Curry of The Ginger Trio entertains the crowd with her melodic voice.
Alex Pires is auctioning off a rare 15-year-old bottle of Pappy Van Winkle Bourbon worth $3,100.
Laura Lee entertains attendees at the event.
Laura Lee sings a cover of a popular hit.
Laura Lee moans a cover of a Beatles hit.
Bartenders Jen Roe, left, and Sophia Genereux tend to spectators at the indoor bar.
Having a good time at the outdoor bar are (gd) Bob Mills, Gary Sterling, Bob Mills, Meggin and Butch Holtzclaw, Bill Gaines and Brooke Sterling.
Local David Vogt won the auction on the 15-year-old Pappy Van Winkle Bourbon, worth $3,100. His winning bid was $800.
Erik Sweterlitsch had the winning bid for a bottle of Clase Azul tequila.
Chris Diller entertains the crowd with his unique style.
Chris Diller sings an original tune.
Locals Bryan Erwin, left, and Tracey Resnick enjoy the weather on the bridge.
Dewey locals Gary Talley, left, and Debbie Crow enjoy the music inside the venue.
Family and friends of Chris Diller and Officer Jack Kane pose outside the event. They are (lr) Chris, Maggie and Denny Diller, Ann Kane, Jack Kane, Alison Diller, Joan Black and Margaret McBurney.
Posing for the camera are (lr) Rachel Mateo, Devon Curtis and Rachel Novak.
The JJ Rupp band is waiting for their set.
The JJ Rupp Band headlined the event.
JJ Rupp sings one of his hits.
JJ Rupp moaned a tune.