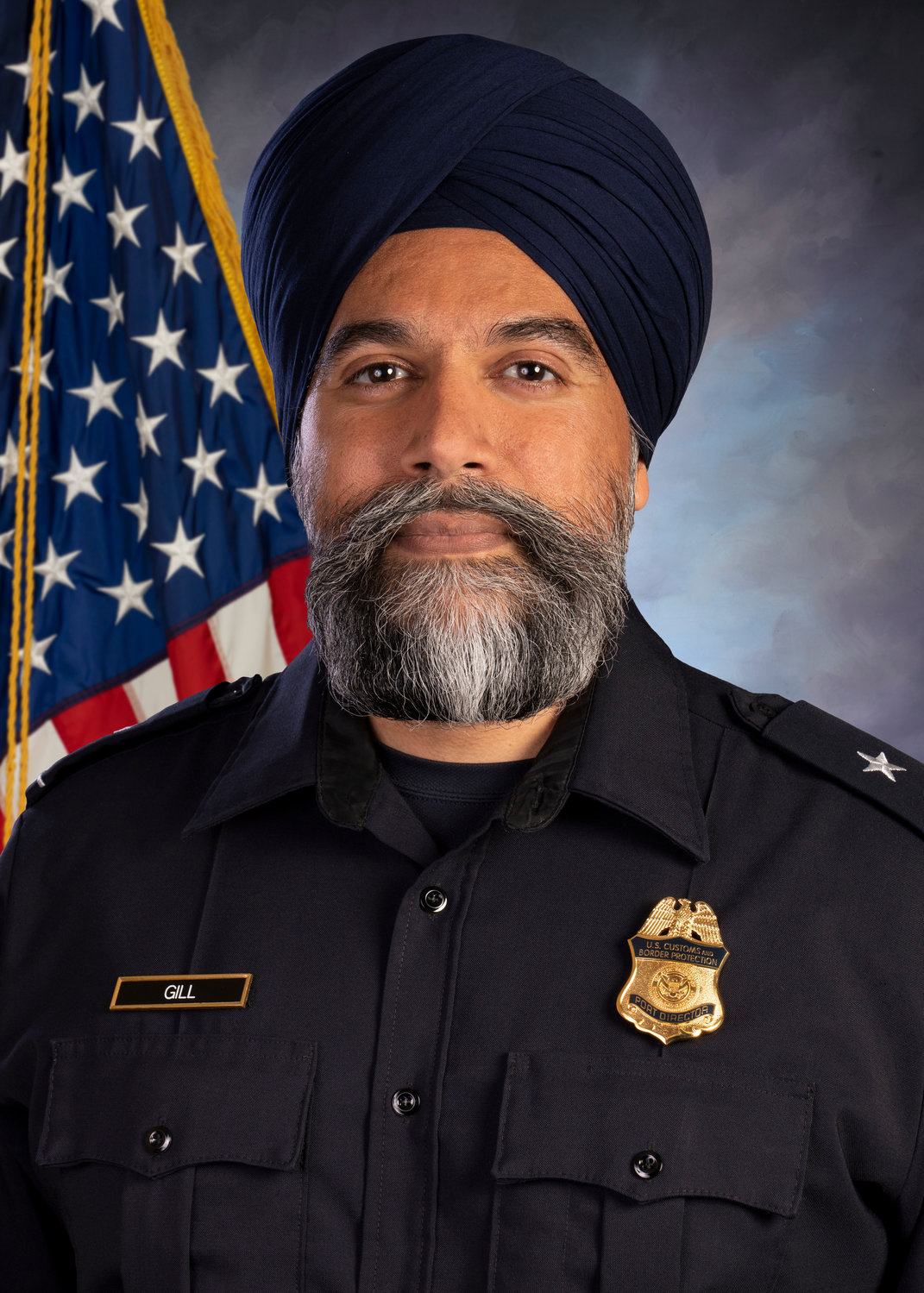 Q&A with CBP's new Blaine Area Port Manager
By Grace McCarthy
U.S. Customs and Border Protection (CBP) promoted Harmit Gill to Blaine Area Port Manager in late March. The Northern Light sat down with Gill to discuss what he hopes to accomplish in his first year, how he's improving transparency within the agency, and his journey at Blaine.
Gill moved from California to Blaine in sixth grade and attended schools in Blaine before earning his bachelor's degree in computer science from Western Washington University. He worked as a systems analyst at Microsoft in Seattle before returning to Blaine to begin his career at CBP. Prior to his new role, Gill worked as chief of staff for CBP's Seattle field office since 2019.
As Blaine Area Port Manager, Gill oversees 17 ports and stations on the Washington State and British Columbia border, as well as a general aviation facility and port operations in Bellingham, Anacortes and Friday Harbor. He heads 700 employees who process more than 17 million travelers and $20 billion in trade annually.
Questions and answers have been edited for brevity and clarity.
Can you tell me about your background and experience growing up in Blaine?
I had a challenge in these communities. I came to Blaine in sixth grade and graduated in 1996, but Blaine wasn't diverse. I may have been the first child to wear a turban and it's always hard to be different. Being different here wasn't easy because people made assumptions about what religion I belonged to and they liked to show it off.
Western was good. I graduated in 2004 and transitioned here in 2008. My family has always been in Blaine since our first move. I started with CBP in 2008. I spent a few months working for the city of Blaine when I graduated from high school in computer science, I worked for a start-up while I was going at school in Bellingham. I wasn't really into the activities, I was just mentally focusing on my goal and trying to accomplish it.
How did you get into CBP?
When I left Microsoft, my family was building houses here. One of the houses we sold was to a CBP officer and in a casual conversation he said, "You should work here. This piqued my interest. It's a great career. It's one of the few jobs that gives you a 20-year retirement pension. This gives stability and in 2006 my first child was born. I have two daughters and a son; 15, 13 and 10.
What was your career at CBP like and what positions did you hold?
My journey was as an officer to supervisor, chief, chief of staff to the director of field operations at the Seattle field office before assuming this role. I worked in Point Roberts for a few years so was lucky enough to stay in this area.
What position did you hold at Point Roberts?
I worked as a supervisor [in 2015]. Point Roberts has a special place in my heart. This is where I gained my experience in management. Not only that, Point Roberts is very unique and they have significant challenges. I relate to the community. We have a lot of conversations with our counterparts in Canada about the community and what we can do to help them. Point Roberts continued to be our second busiest in the Port of Blaine area for traffic during Covid.
Can you tell us more about the challenges at Point Roberts and how you want to overcome them?
Point Roberts is political. They rely heavily on their counterparts in Tsawwassen, Richmond and Vancouver. As a federal entity, we do not dictate what Canada can and cannot do. We can make inquiries with our counterparts to see if international affairs can communicate with them. We spoke with congressional delegates to see what CBP is doing. We don't make the rules, we enforce them, but we also empathize with our communities.
I will often verbalize in closed meetings that sometimes I wish Canada would give Point Roberts a little more leniency. All we can hope to do is commit, have a good working relationship and hope they understand. If we communicate, we are able to start that dialogue and raise a larger issue, because if everyone remained silent, Point Roberts would still be in trouble.
Are there any plans to update Point Roberts computers?
Yes, that's one of my goals. We could upgrade the computers, that's not a problem, but it's the Internet connection that poses significant challenges.
It's original thinking right now, not just for Point Roberts, but for the ports in eastern Washington, to see if we can advance Internet access. Many places are remote and the infrastructure does not exist. We are doing our best, but these core technologies are on our books and I hope to upgrade them before the end of the fiscal year.
My door is open to all resident concerns. We recognize that these people have to go through ports of entry twice, and it's not easy.
What would you like to have accomplished by the end of your first year as director?
My main objective has been to improve the morale and professionalism of the officers. We are even progressing in the first three months. There's a lot of stress when the lobbies are full of people, traffic is jammed up for hours, and the traveling public is staring at you. My goal is to make sure agents have the tools they need to do their job, but without working them so hard that they miss the details.
The jobs we do are a fine line of customer service but, at the same time, you don't know who you'll meet. In the last 10 years CBSA has encountered a shooter who wanted to commit suicide by a cop at Peace Arch and there was a shooting at the old Peace Arch.
We too are limited by budget constraints. Our officers work a lot of overtime, not because they want to, but because they have to. I have to recognize that they are human beings and ensure that they are capable of fulfilling their duties.
We are the face of this nation. This is most likely the first time an individual has come to our great country. I want to make sure their first meeting is memorable. My goal is for us to treat everyone with dignity and respect.
What is your greatest achievement so far with CBP?
Build relationships with our external partners, internal partners and external government agencies. Let people know that we are human and create an environment that people are not afraid of. There is a lot of anxiety when crossing the border because people don't know what they are going to encounter or how our officers are going to treat you.
I never thought I would be in this position. I could be the first director to wear a turban. I recognize our limited time to make an impact. If you want to do and accomplish something, there must be some need. My motive in moving fast was to see how influential I am. In every position I took, I was always limited in what I could and could not do. Maybe the reason I moved quickly was that I didn't see the change needed.
I never thought of myself as an outsider, but my looks will fool you. As an American, it doesn't matter what you look like or what you wear. Maybe there's a misconception I'm trying to prove to myself.
What do you see as the biggest challenges within CBP and how are you working to address them?
Staff, resources and budget. Covid has significantly affected our budget. Most borders are open 24 hours a day, seven days a week. Congress is working with CBP and the Department of Homeland Security, but if there's no travel, there's no money . A large portion of CBP's budget comes from user fees, much of which relates to air travel and trade.
Covid poses a big challenge. The majority of our staff are vaccinated but some are not so the challenge is to ensure staff are healthy. We take this seriously and we are ready, but at the same time these challenges are ongoing. I hope we continue to be healthy so that we can ensure that we do our job and allow travel and commerce to continue as this has a significant impact on our local economy.
You mentioned at a previous town council that you wanted to improve community relations. Can you explain how you plan to proceed?
Sensitization. I would like to organize events and give tours. There is no curtain here, with the caveat that we have to manage visits. I would like to work with all the members of the city council, anyone in the city, with whom we work [Blaine police] Chief Tank, and let them know what we're doing. We are an entity that is here but nobody knows anything about.
Without the uniform, we are only human beings. It's not just a job for us. We are proud of what we do.
We have to open our doors to create community relationships and that is the biggest challenge. Immigration is a hot topic and we recognize that. We want to introduce ourselves to local schools. When events take place, for example, the [lockdown] in Blaine, we were the first to help clean buildings in addition to other law enforcement entities. We have trained staff and resources. This is not our primary mission, but on a personal level, we are here to help you. We are putting in place a plan to do active shooting training.
Historically, we haven't put ourselves forward because people generally don't like us and have opinions about what we do. But if we remain in the shadows, that does not help us.