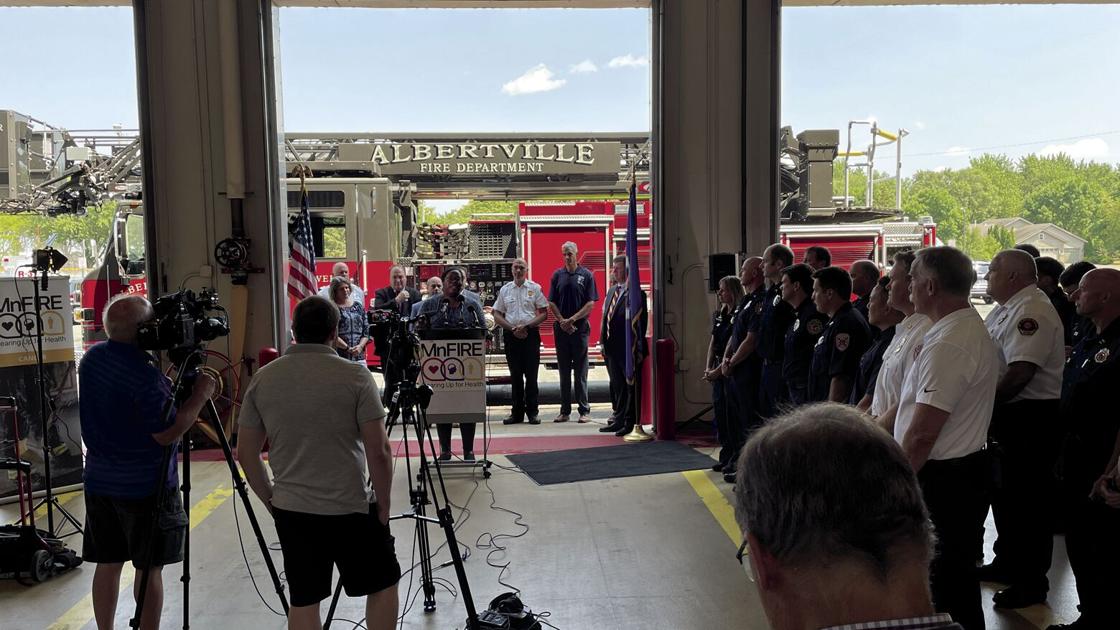 Newly Enacted City Hero Assistance Program Benefiting 20,000 Minnesota Firefighters | Local News
A new program to help firefighters and their families with resources was recently passed by the Minnesota Legislature.
On Thursday, July 15, the Minnesota Firefighter Initiative (MnFIRE) held a press conference at the Albertville Fire Department to announce the city's new hero assistance program.
The Minnesota Firefighters Initiative (MnFIRE) was one of the driving forces behind the passage of this legislation, which was created in 2016 when the need for resources and support for Minnesota firefighters was recognized. The organization itself wanted to tackle issues surrounding cancer, heart and emotional trauma.
George Esbensen, President of MnFIRE, has been with the organization since its inception in November 2016. He is responsible for the legislative and administrative tasks of the organization, as well as fundraising.
"[When the bill passed] it was a feeling of relief that all these years of hard work and effort paid off, "Esbensen said. "This bill will provide immediate benefits to approximately 20,000 Minnesota firefighters from day one, regardless of their work status or whether they live in a small town or a large city."
Two key members who have also been with the organization from the start are Vice President Mike Dobesh, who oversees firefighter training, and Treasurer John Wolf, who is responsible for peer helpers that firefighters can call on a toll-free number. fee for help if needed.
Representative Cheryl Youakim, Representative Tama Theis, Senator Jeff Howe and Senator Steve Cwodzinski were the driving force behind the introduction of the City Hero Aid Act to the Minnesota Legislature.
"Even though you hear about the back and forth from the two main political parties, it was really everyone coming together for the sake of the Minnesota firefighters," Esbensen said.
The program will also provide annual training for medical and mental health providers so that when a firefighter walks into their office, they have the knowledge to meet the challenges and unique experiences that firefighters endure.
In addition, each firefighter and their family members will have five visits with a mental health professional who is trained in the unique rigors of being a firefighter.
Emily Vollmer, the widow of Captain Jeffrey Vollmer of the Mayer Fire Department and mother of two, lost her husband in 2017 to a heart attack at the age of 40. Captain Vollmer was a second generation firefighter who devoted 12 years to the service.
Vollmer remembers her husband as an active captain who stood up for his colleagues in the department. He regularly checked in on people who were going through a difficult time after a call and encouraged them to get the support they needed.
"Calls that trigger or trigger PTSD are horrible and it's hard to talk to people around you who may not understand what a firefighter is going through after a call," Vollmer said. "There's also the unfortunate stigma of being a man and a firefighter and the expectation that you can handle things on your own."
When the bill passed, Vollmer was relieved that firefighters who volunteer their time and talents finally get the support they need to help themselves. Having a firefighter at his best, physically and mentally, is important so that he can provide quality service to the community.
"I'm glad they can get better screening," Vollmer said. "Some of these issues can be caught earlier and prevent the tragedy from happening so that other families and departments do not suffer what we have done."
In their interviews, Vollmer and Esbensen both said they hope the fire services will use these new resources at their disposal and that the firefighters themselves will finally get the help and support they need.
Copyright © 2021 at Sun Newspapers / APG Media of East Central Minnesota. Digital distribution of this content without prior written consent is a violation of federal law and may be subject to legal action.