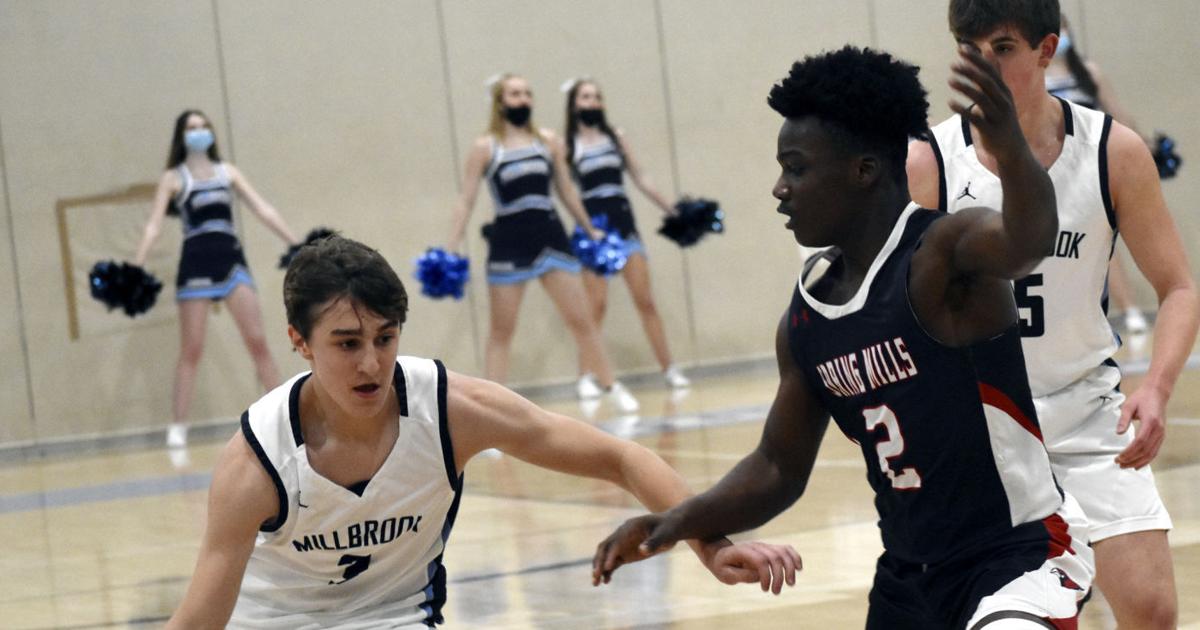 Millbrook boys can't beat Spring Mills | Sports
WINCHESTER – Building a successful basketball team is like solving a puzzle – you have to find the right pieces that fit together.
On Tuesday night, Millbrook struggled with that, while Spring Mills (W.Va.) had the answer – let freshman Keshaun Cheek run things with the rest of the starting five.
Cheek came up with the big plays when the Cardinals needed them and Spring Mills got all of its points from its five starters in a 56-49 triumph over the Pioneers at Casey Gymnasium.
Millbrook has only led once (5-3) in the contest and couldn't capitalize on an early fourth-quarter raise to drop to 1-2 this season.
"It wasn't where we need to be at all," Pioneers coach Steve Grubbs said of his team's performance. "Defensively our rotations are not where we need to be and… myself, I need to continue to put the kids in the best position. Right now, our rotations and our defensive intensity don't put us in that position. "
Grubbs was particularly disappointed in the first quarter in which the Cardinals' only home goals came from afar – five to 3 points – as they took a 17-8 lead that Millbrook could never recover from. .
"We can't leave people wide open," Grubbs said. "I said to the kids, 'This is college basketball. If somebody's wide open, they're going to hit shots. They will be hitting punches throughout the game. We have put ourselves in a very bad position.
This position deteriorated at the start of the second half. Cheek's steal and layup in the middle of the third quarter gave Spring Mills, who was playing in his first game of the season, his biggest lead at 36-22. But an 8-0 run at Millbrook to finish the quarter, capped by two free throws from Ryan Liero who suffered a foul with 0.1 seconds on the clock, reduced the margin to 36-30.
After a basket from Spring Mills, BJ Canada converted on a practice and steal to bring Millbrook back to 38-34 with 7:10 to go.
"Honestly for us, it was playing the game in the moment," said Canada, who had 11 points in the competition. "At that point we needed some defensive saves and I did it and it felt good."
The Pioneers would get a possession to try to close the gap, but they handed the ball over to the Cardinals.
Cheek would have a basket and two assists, one on Austin Davis 'fifth 3-point scorer of the game, which reduced Spring Mills' lead to 48-37 with four minutes remaining. The Pioneers would only approach the final margin from there.
"We put so much energy and so much effort into getting to four and then we had an empty possession and they get a bucket and it's now six," said Grubbs. "We just couldn't get over that bump. "
Cheek has scored six of his game-high 18 points and collected four assists in the last period.
"[Cheek] is a great player, "said Grubbs. "I know he's a freshman. He looked very good, composed and balanced with the ball. It didn't seem like the timing was too big for him at all and this is his first game of college basketball. He certainly didn't play like a normal freshman.
"He was a very quick and sneaky player," Canada said of Cheek. "I have to give him props. "
Cheek had some help as Davis scored 16 points, while Jalen Franklin and Caleb Thomas added nine each.
Liero, who scored 10 of his team's 12 points in the second half, and Canada were the only two Pioneers to score in double digits. Millbrook also missed 7 of 15 free throws.
"These are growing pains," Grubbs said. "It's getting used to playing games again. It's getting used to playing with each other again.
"These are small things. We have a lot of new faces. I know we have some that have come back, but we have a lot of new faces that have never played before.
It is not easy to determine which pieces go together.
"It's just a fluke," Grubbs said of finding the right roster combinations. "During the season, we will continue to bring children in and out. We're going to put the kids in positions where they can hopefully start to impact play in whatever way they can. We're going to start cleaning up our things.
Grubbs says it's his job to get the Pioneers back on track.
"It's back to the drawing board for me," Grubbs said. "I'm going to watch a movie, watch some things, try to adjust some things and see who did well and where. Look at our problems and I hope I will write some other stuff and put the kids in the best possible position. "
Canada is confident that will happen. "Once everyone gets into the swing of the season, I really have a feeling that everything will be fine," said the senior goaltender.