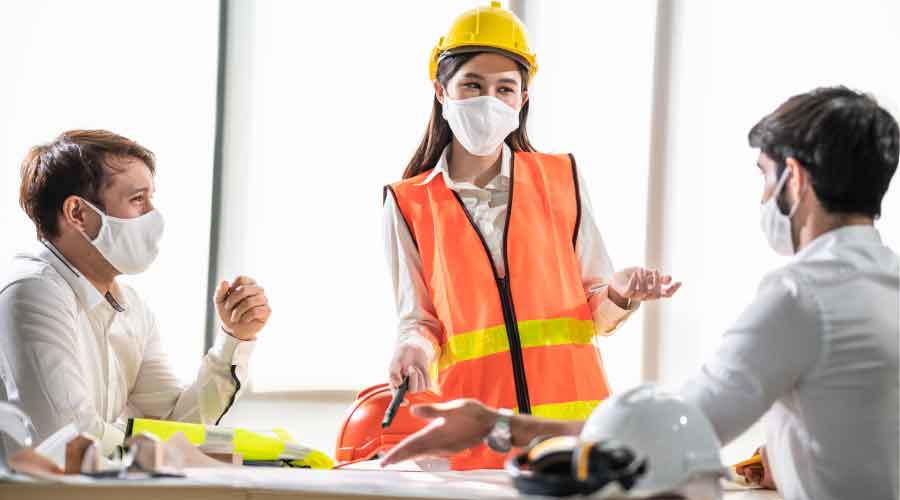 How to Overcome Disruptions in Construction Projects
Supply chain challenges and rising material costs have thrown many building and construction projects into chaos. Here are some tips to ensure projects run smoothly.
The ongoing pandemic has impacted many industries around the world, including the design, architecture, engineering, construction and facilities management professions. Between increased demand, increased inflation, supply chain delays, and labor shortages, industry professionals face multiple levels of challenges throughout project development. Below, we explore the state of the industry and discuss best practices for overcoming the changing circumstances surrounding construction disruption.
The current landscape
The global Architectural, Engineering and Related Services Consultants Market 2022 report revealed that the market is expected to grow from USD 1290.07 billion in 2021 to USD 1416.90 billion in 2022 at Compound Annual Growth Rate (CAGR ) by 9.8%. There is a huge demand for work, which is a double-edged sword when it comes to executing projects. For one thing, it's great that many homeowners are looking to build so they don't run out of work. The challenge is that everyone from professional services firms to manufacturers are struggling to find the products to meet demand.
When the COVID-19 pandemic hit, the industry went from boom to bust to boom, very quickly. We have had recessions in the past where the profession has suffered, but the rebound has never been faster. Especially coming out of the pandemic, the industry has gone from halving businesses to desperately looking to hire people with a severe shortage in the talent pool.
Supply chain barriers and shifting timelines
Currently, there are many setbacks in project timelines due to supply chain delays and increased product prices. Products specified by architects and engineers, such as HVAC equipment, roofing materials and concrete, are suddenly unavailable. In turn, the original prices of products are indicated for rapid changes, and the cost often increases significantly. Rising product prices lead to budget setbacks and other ramifications that can significantly delay project timelines.
Construction schedules are stretched to the max, impacting overall budgets and crews. For example, if a project has a budget of $10 million, at the time of bidding, that budget might be relatively unreachable due to rising product and material prices. Permits take up to eight to ten months to be approved, tender processes are delayed, and project milestones can explode.
Manage customer expectations
Facility managers expect the design team to be upfront and honest throughout the process, from start to finish. If project teams set overly optimistic and unrealistic expectations due to labor shortages and supply chain disruptions, owners will understandably be upset when deadlines are not met. However, if the design team is transparent about foreseeable hurdles, reasonable timelines, and realistic budgeting, owners are more likely to be receptive to potential challenges that may arise during the construction process.
For the design team, it's important to have back-up plans when inevitable challenges arise. Whether planning proposals in the event of setbacks, reviewing alternative materials to prepare for shortages, or considering ways to pivot and scale elsewhere if budgets tighten, team readiness various strategies will help offset any surprises.
Team-building and product preparation
One solution is to involve all stakeholders as early as possible in the process. Once a project has started, it is important to ask: can a contractor be hired sooner? Can we find a strong regional contractor with links to subcontractors? Building a strong team from the start has many benefits, one of which is that everyone helps shape the project from conception to completion, which helps streamline the entire process. If the amount of materials needed is known, order them early. For example, if the project involves 30 retail stores and the project team knows that each store needs 10 HVAC units, make sure they are secured as soon as possible to combat these price increases and delays. of the supply chain. Collaboration and communication are key to ensuring the right team and the right products for construction.
A new era of industry-driven technology
Although the pandemic has brought new challenges to the design, construction and facilities management industries, all is not bleak. Advances in augmented reality (AR), rapid response (QR) technology, and virtual reality (VR) have allowed work to continue even when we experience disruption in the industry. AR, QR and VR technologies allow us to try new things, experiment with new materials and experience virtual simulations of projects that may not yet be ready for physical visits. Before the pandemic, the industry was a little hesitant to embrace new technologies because many people had become set in their ways and were reluctant to change. The pandemic has opened up a new arena of opportunity in the tech space, and it's really benefited the industry as a whole.
The industry as a whole is also becoming more personal than it was before the pandemic. Stakeholders are receptive to greater involvement and processes are streamlined in new ways. Apart from a face-to-face meeting, we used to connect to conference calls through our phones. Today, with technologies like Microsoft Teams and Zoom, when in-person meetings aren't possible, we can still sit down and talk to each other face-to-face through tools that use webcam conferencing. We've realized that traveling for in-person meetings isn't as necessary as it used to be, which ultimately led to reduced business travel time and made way for a better work-life balance in the profession. Collaborative technology allows us to save money and time which are crucial considerations during any project phase.
Overcoming the challenges of construction disruption is a difficult task, but not impossible. By monitoring the current industry landscape, being aware of supply chain hurdles and changing timelines, managing expectations, preparing projects in advance, and integrating new industry-driven technologies , professionals can better prepare for construction disruptions. It's certainly not the last time we'll face challenges in this industry, but having confidence in our tools to help us overcome these obstacles will help us ensure optimal project results and customer success.
Jeffrey Hill, AIA, is director of the Dallas studio of SBLM Architects.
---
---
---
Related Topics: