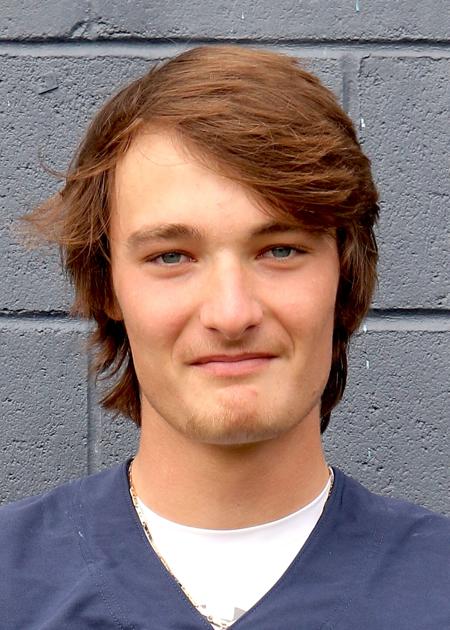 Football: Big-game Bulldogs overcome 14-point deficit to beat Barrington to Division II semi-finals | Latest sports
BARRINGTON – Westerly High received a huge block from a wide receiver, made a key defensive adjustment and received great contributions from usual sources in a resounding 35-23 win over Barrington in a quarterback game. Division II final on Friday night.
Westerly, the No. 3 seed in II-B, will then travel to St. Raphael Academy (9-0) unbeaten in the semifinals. The Saints defeated St. Raphael Academy, 42-14, Friday. The time and date for this match have not been finalized.
For a while, the semifinals seemed like a distant possibility for the Bulldogs (7-2) – they fell behind 21-7 in the second quarter. Barrington (6-3), the No. 2 seed in the II-A, swept through Westerly's defensive front to take the lead early on.
"I was definitely nervous in the first half," said Westerly coach Stanley Dunbar. "Ultimately, they are the defenders [Division II] champions [from the spring season]. They will come to their land and give you everything they have. They are well trained and their option is difficult to stop. "
Westerly returned to the game with touchdowns from running back Zack Tuck and quarterback Lance Williams to tie it at 21.
The Bulldogs then took the lead in earnest with 22.7 seconds left in the third quarter: Luke Marley caught a pass near the Williams Barrington sideline, slipped a defenseman and looked to be heading for a win solid. But along the way, Marley received a huge block from fellow receiver Marcus Haik, allowing him to come down the Barrington sideline for a 77-yard touchdown.
Chad Mayne's extra point made it 28-21.
"That was all Marcus Haik, the team's main tackle," said Marley. "[The Barrington defender] was going to attack me if Marcus didn't do that block. Without him, I wouldn't have scored. "
Dunbar agreed that blocking Haik was essential to the performance of the play.
"This is something our receivers coach Jordan Husereau has been working on," said Dunbar. "They get better every week, understanding that it's an important part of being a receiver. It's not just about catching passes."
Still, the game was far from over at that point. The Eagles moved 54 yards to 12 for Westerly on their first possession in the fourth quarter.
But defensive end Greg Gorman and defensive lineman Xavier Webster combined for a sack that dropped 2 yards on the second down. On the next play, Gorman had a 6-yard sack and Barrington missed the fourth down with 4:55 left.
Gorman put a lot of pressure on Barrington quarterback James Anderson in the fourth quarter.
"Our linebackers were able to take out the running back, and I was able to play one on one," said Gorman.
Westerly failed to get a first try after stopping the Eagles. The ensuing snap slammed over Gorman's header in fourth, and he was tackled for safety in the end zone. Westerly was still leading 28-23 with 2:36 left.
Barrington failed to win a first down in his streak, with Gorman forcing Richards out of the pocket on an incomplete fourth down.
Westerly took over at his 44, and three games later Tuck sped over the Barrington sideline for a 47-yard touchdown to make it 35-23 with 1:14 remaining.
Barrington still had a slim chance, but the Eagles failed to secure a first down, and Gorman had another sack for a 9-yard loss in the Eagles' playoffs.
"I'm so excited," Gorman said. "This team has really come together as a family, and I couldn't be more proud to be a part of this team."
Marley finished with a huge night, catching 11 passes for 219 yards. In the second quarter, he was extremely well defended on a passing game that seemed to have no chance of being completed. He came down with the ball for a 41-yard reception.
In the dying minute of the first half, he caught a 22-yard side pass from Williams and did a great job getting his feet in the bounds. The play gave the Bulldogs a first try at the 1-yard line, and they scored with 4.4 seconds on a run from Tuck to lead 21-14 at halftime.
Westerly scored on his first possession of the second half, going 58 yards in almost eight minutes. Once again, Marley had a 6-yard reception on the third down that went to Barrington 1. Williams then scored on one stroke with 4:03 left in the third quarter to make it 21.
"I told the guys at halftime that we were going to get the ball back and we were going to score and they believed it," said Dunbar.
Westerly made a key defensive adjustment at halftime. The Eagles hurt the Bulldogs with a pair of 62-yard touchdowns in the first half.
"We had a guy who moved to the back gap that they were trying to take advantage of. They were exploiting the weak side," said Dunbar. "Their attack didn't score in the second half."
Williams completed 12 of 20 passes for 226 yards, giving him 1,191 yards for the season. He completed 57.6% of his passes with 12 touchdowns. Williams became Westerly's first quarterback to exceed 1,000 yards since Brandon Moore threw 1,106 in 2008.
Tuck, who ran for 162 yards on 25 carries, also scored 18 yards in the first quarter. He has 1,383 yards for the season with 18 rushing touchdowns.
Marley has 35 receptions for 752 yards (21.8 yards per catch) with eight touchdowns.
"Everyone was saying it was a good game, but there were times when I was stressed," said Dunbar. "But I'm glad we pulled it out. It was a great comeback win."