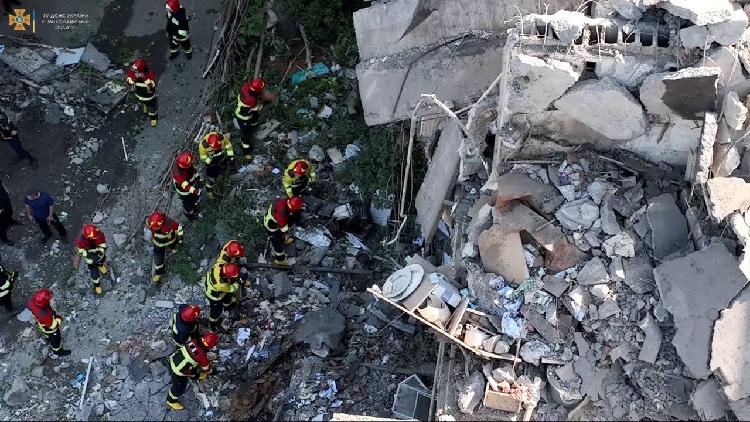 Conflict in Ukraine: Mykolaiv under attack and Erdogan's "triumph"
Rescuers work in a residential building hit by a military strike in Mykolaiv. /Reuters/National Emergency Service of Ukraine
Rescuers work in a residential building hit by a military strike in Mykolaiv. /Reuters/National Emergency Service of Ukraine
MAIN TITLES
• Ukrainian President Volodymyr Zelenskyy told NATO leaders his country needed $5 billion a month defend against Russia. LEARN MORE BELOW
• Russian forces hit targets in Mykolaiv region of southern Ukraine on Wednesday and intensified attacks on fronts across the country.
• Russian Defense Ministry says strikes in Mykolaiv were on military ground training base for "foreign mercenaries".
• Poland welcomed US President Joe Biden's commitment to establishing the Headquarters of the 5th Army in Poland.
• More … than $330 billion in financial resources held by Russian elite and central bank frozen by a sanctions task force made up of key allies of Ukraine. LEARN MORE BELOW
• Russia has not yet been informed of the detention of a tanker carrying Russian petroleum products by US authoritiesInterfax quoted Deputy Foreign Minister Sergei Ryabkov.
• Ryabkov said that Russia considers the plans by Sweden and Finland to join NATO "negatively", reported Interfax.
• Turkish pro-government media hailed a deal allowing Finland and Sweden to join NATO as triumph of President Tayyip Erdogan.
• The military-civilian administration imposed by Moscow in Ukraine Kherson region says it has started preparations for a referendum on joining Russiaan administration official told Reuters.
• Russian President Vladimir Putin wouldn't have started the war in Ukraine if he was a womanaccording to the British Prime Minister Boris Johnson.
• The EU executive made a new 3.5 billion euros ($3.7 billion) from available regional development funds welcome Ukrainian refugees.
• The Russian military claimed to have hit a nearby arms depot in his attack that sparked a fire in a shopping mall in Kremenchuk, which he said was empty. This came in response to Ukraine reporting that 18 people had died in the incident. Zelenskyy released CCTV footage of the explosion [SEE BELOW] saying it was a "deliberate" attack.
Ukraine tells NATO: Russia wants to dictate future world order
Ukrainian President Volodymyr Zelenskyy has told NATO leaders his country needs more weapons and money to defend against Russia, warning that Moscow's ambitions don't stop with Ukraine.
"This is not a war waged by Russia only against Ukraine. This is a war for the right to dictate terms in Europe – for what the future world order will be," he said in a statement. a virtual address at a summit of Western countries. defense alliance in Madrid.
"That is why it is absolutely necessary to support Ukraine, even now, with weapons, finances and political sanctions against Russia, which will stop its ability to pay for the war."
He said Ukraine needs modern missile and air defense systems.
"By providing them to us, you can completely break Russia's tactics of destroying cities and terrorizing civilians," he said.
Moscow calls its actions a "special military operation" to disarm Ukraine and rid it of what it calls Western-incited anti-Russian nationalism. Ukraine and the West say that Russia has launched an unprovoked war of aggression.
Ukrainian protesters ask NATO for more help outside the NATO summit in Madrid. /Reuters/Juan Medina
Ukrainian protesters ask NATO for more help outside the NATO summit in Madrid. /Reuters/Juan Medina
Allies freeze $330 billion in Russian assets
A sanctions task force made up of key allies of Ukraine has frozen more than $330 billion in financial resources held by Russia's elite and central bank since troops invaded Moscow, the group said on Wednesday. .
The Russian Working Group on Elites, Proxies and Oligarchs (REPO) said in a joint statement that they had frozen $30 billion in assets of Russian oligarchs and officials and tied up $300 billion belonging to the Russian central bank.
They have detained at least five luxury yachts and frozen opulent real estate belonging to the country's billionaires.
"Together, we will ensure that our sanctions continue to impose costs on Russia for its unprovoked and continued aggression against Ukraine," the group said in a statement released by the US Treasury.
The REPO was formed on March 17 to increase economic pressure on Moscow.
Its members include senior finance and justice officials from the United States, Australia, France, Canada, Germany, Japan, Italy, Britain and the European Commission.
They have moved regularly to seize the luxury properties and mega-yachts of Russian billionaires known to have ties to Putin.
But they also worked to isolate Moscow in the global financial system, making it harder for the Kremlin to use its money in international markets.
They have limited Moscow's ability to acquire advanced technologies.
On Sunday, Britain, Canada, Japan and the United States jointly announced that they would ban the purchase of gold from Russia to prevent the country and its tycoons from using the metal to avoid sanctions.
The REPO has warned that it will continue to seek the assets of wealthy and influential Russians.
Source(s): Reuters, AFP