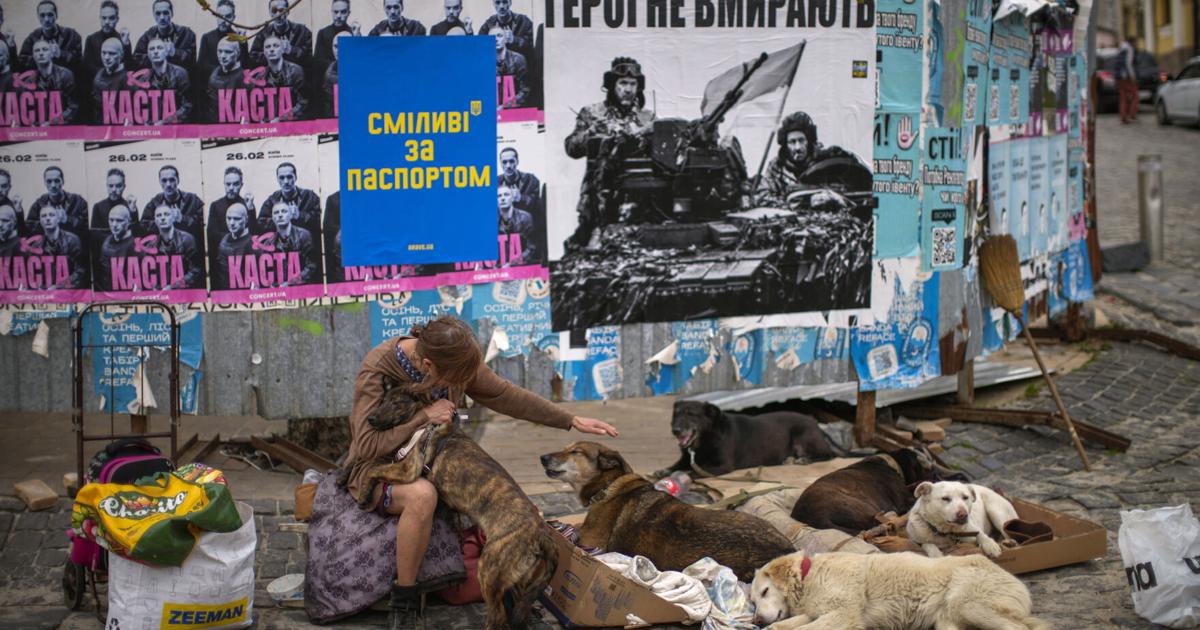 Colorado Springs-area churches bring in record donations for Ukrainians | faith and values
Reverend Bob Bender couldn't believe his eyes.
The offering slabs at Black Forest Cross Fellowship Church were not large enough to hold the copious sums of money and checks that congregants deposited there on Easter Sunday.
"I had never seen anything like it," said Bender, the senior pastor.
The response to his call for a special collection to benefit relief efforts for war-besieged Ukrainians has been significant, he said.
The 800 congregants at the Southern Baptist Church's Black Forest location donated $61,000 in that appeal alone.
"I was blown away," Bender said. "It's way beyond what we normally take."
A personal connection that ensures contributions are channeled directly to a friend with boots on the ground in Ukraine, which has been battling a Russian attack for two months, could be part of the reason for the generosity of his church and others churches in the Pikes Peak area.
Catholics from 39 parishes and missions in the Diocese of Colorado Springs have donated more than $485,000 to help Ukrainian refugees who have fled to Poland since the war began Feb. 24, diocesan spokeswoman Veronica Ambuul said.
"We have made three wire transfers so far for a total of $459,211.92, and will be sending a fourth wire transfer of $25,888.13 later this week," she said, adding that she was unaware of any other special collection in the diocese that collected so much money.
Reverend Gregory Golyzniak, pastor of St. Peter's Catholic Church in Monument, is ensuring that the money buys clothing, medical supplies, three meals a day and education for children for 300,000 families who have fled the Ukraine and remain in Poland.
The Monument priest, who was born and raised in Poland, works with Caritas, which means charity in Latin, a confederation of 162 Catholic relief, development and social service organizations that help the poor and oppressed in 200 countries and territories around the world.
The Diocese of Colorado Springs collected the highest amount from the Caritas chapter to which Golyzniak belongs, he said.
"I was surprised by the amount – it means people here really care," he said. "People feel there is a need, so they provided."
Golyzniak has also reached out to priests he knows in Poland to help the mother of a Monument parishioner, who lives in Ukraine, get to safety in Poland and wire $30,000 donated only by Monument worshipers to priests. to deliver food, medicine and other supplies to Ukrainians near Lviv on the border with Poland.
"By the providence of God, the priests of Ukraine found her mother and she was able to travel to Poland safely," he said. "I said it from the pulpit – by helping each other, we've helped one person be safe, and it's amazing how one person could be supported by us here at Monument."
While praying to find out how this year's special annual Easter collection should be used, Cross Fellowship's Bender said God led him to contact longtime friend Michael Gott, another Baptist preacher from South Texas. who has been working in Poland and Ukraine for decades.
"He preached in Kyiv six weeks ago, in bomb shelters and subways, as bombs were falling," Bender said.
Gott told Bender that $3,600 paid for a van full of food, medicine and clothing, and $20,000 funded a large boxcar of those goods for refugees in eastern Poland and western Poland. 'Ukraine.
"My goal was to fill a boxcar," Bender said. "What you see on TV is just the tip of the iceberg. People have only clothes on their backs and no homes since their apartments were bombed.
He approached his congregation the Sunday before Easter, telling them about his conversation with Gott.
"I had two checks for $4,000 before the offer was even taken," he said.
But Bender said he always preached the concept of seeing the world through the eyes of the poor and seizing the opportunity to meet need.
People were listening.
"I tell people to trust in the Lord, and over the years we have created a culture of generosity and missions around the world," Bender said. "All people need is a place to express their compassion that touches their nerve and touches their heart."
Golyzniak, of St. Peter's Church, said his relatives in Poland had taken in refugees, as had many other Polish residents.
"They yearn to go back to Ukraine – that's their goal – they're basically very stressed and living in fear all the time," he said. "They are separated from their husbands, who are left to fight, so even a simple thing like a fire siren sounds like an attack from the enemy and triggers their emotions."