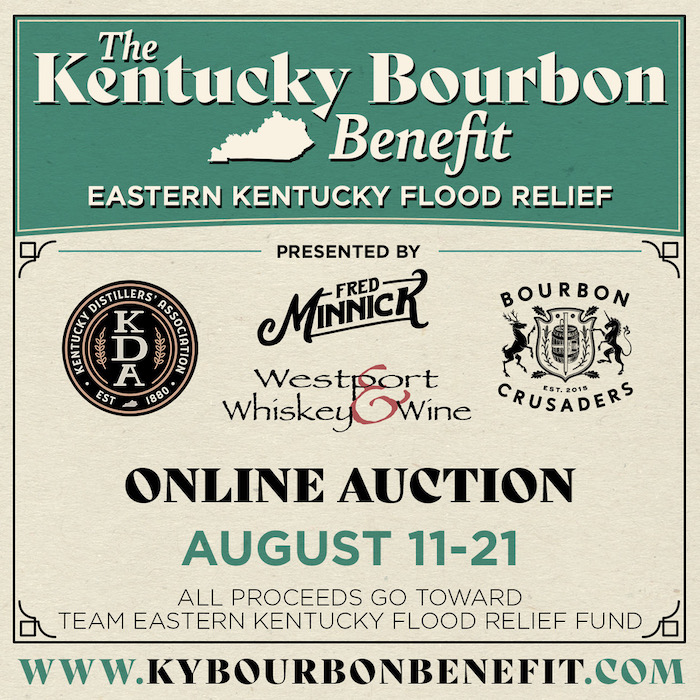 Bourbon Community Rallys For Eastern Kentucky Flood Relief Benefit
The Bourbon community is once again coming together to support recovery and rebuilding efforts after the deadly floods in Eastern Kentucky.
The Kentucky Distillers' Association, charity Bourbon Crusaders and Bourbon curator Fred Minnick have joined forces for the Kentucky Bourbon Benefit, offer an online auction of exclusive private cask selection experiences, spirits rare and vintage, as well as unique tourist and tasting offers.
"The Kentucky Bourbon Industry was there for our Western Kentucky families after the tornadoes, making the single largest donation to this relief fund," Gov. Andy Beshear said in a prepared statement. "And now I'm proud to see this industry step up once again to support our Eastern Kentucky families affected by the devastating floods."
A similar auction last December raised nearly $3.4 million to help those affected by tornadoes in western Kentucky.
"We have prayed that we never have to bring this group together again in the face of disaster, but our friends, families and neighbors in Eastern Kentucky are braving untold tragedy and devastation," said Eric Gregory, president of Kentucky Distillers. Association. . "It's our duty as a signature industry to help."
He said they were impressed and touched by the outpouring of support for Western Kentucky, and the hope is that bourbon aficionados and bidders will show the same generosity for the thousands of residents of the It's from Kentucky who need help now.
The online auction began yesterday and will run through Sunday, August 21 at 11 p.m. EST.
Click www.kybourbonbenefit.com to view auction items and to bid. Westport Whiskey & Wine in Louisville coordinates the collection and distribution of donated items.
All proceeds will go directly to the Official Eastern Kentucky Team Flood Relief Fund to help those affected by the floods.
In this auction, several KDA members offer private barrel experiences where bourbon enthusiasts can personally taste and select their own one-of-a-kind barrel. Each barrel typically yields 150-200 bottles depending on age and proof.
Whiskey aficionados with the Bourbon Crusaders go to their personal collections and donate dozens of limited-edition, single-barrel expressions of bourbon, rye and scotch. Distillers are also donating rare bottles that have long since disappeared from retail shelves.
Kentucky distillers are sending tankers and tubs of fresh water to eastern Kentucky, while donating thousands of dollars to organizations and relief funds involved in the cleanup and recovery.
"We deeply appreciate the support of all of our member distilleries and friends with the Bourbon Crusaders, Fred Minnick and the team at Westport Whiskey & Wine for their partnership in helping our fellow Kentucky people," Gregory said.
For more information or to donate, see https://secure.kentucky.gov/FormServices/Finance/EKYFloodRelief.