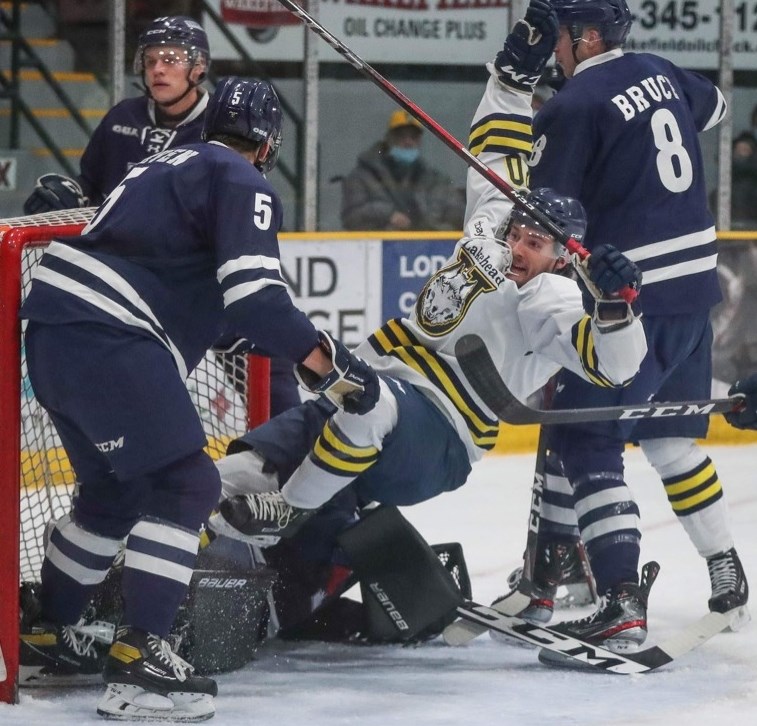 Badalementi's hat trick leads T-Wolves to triumph
Tyler Ho scored one goal and had three assists as Lakehead managed a two-game slide with a 6-4 win over Toronto, his last home game until mid-February.
THUNDER BAY – The Lakehead Thunderwolves have left their biggest crowd of the season with lots of good thoughts to help them get through the next three months.
Ben Badalamenti scored a hat trick and Tyler Ho had one goal and three assists as the Thunderwolves fought off a Toronto Varsity Blues team at Fort William Gardens in Saturday night's teddy bear throwing game, hanging on to a 6-4 triumph to break a two-game losing streak.
Jordan King and Dylan Massie, in the empty net with 65 seconds left in regulation, also scored for Lakehead (3-5-0).
The Thunderwolves took a 3-0 lead after one, only to see Toronto roar to level things, Quinn Hanna, David Thomson and Cole Purboo scored in 4:08 in the second.
Unperturbed, Wolves regained the lead late in the second, Badalementi completing his hat trick at 15:54. Ho added his fourth of the year with 14 ticks on the clock in the middle stanza.
Toronto's Owen Robinson made things interesting with a power-play goal just halfway through the third to bring the score to 5-4, but Massie ended the comeback attempt with his first in a Lakehead uniform then as time passed.
Brock Aiken allowed four goals on 43 shots against for the win, while Jett Alexander suffered the loss, good on 36 of 41 shots fired at him.
The T-Wolves won't return to action until Jan.6 against Ryerson, the first of 10 straight games the team will play on the road to start the new year, thanks in part to the Scotties Tournament of Hearts, which will kick off late. January. in the gardens of Fort William.