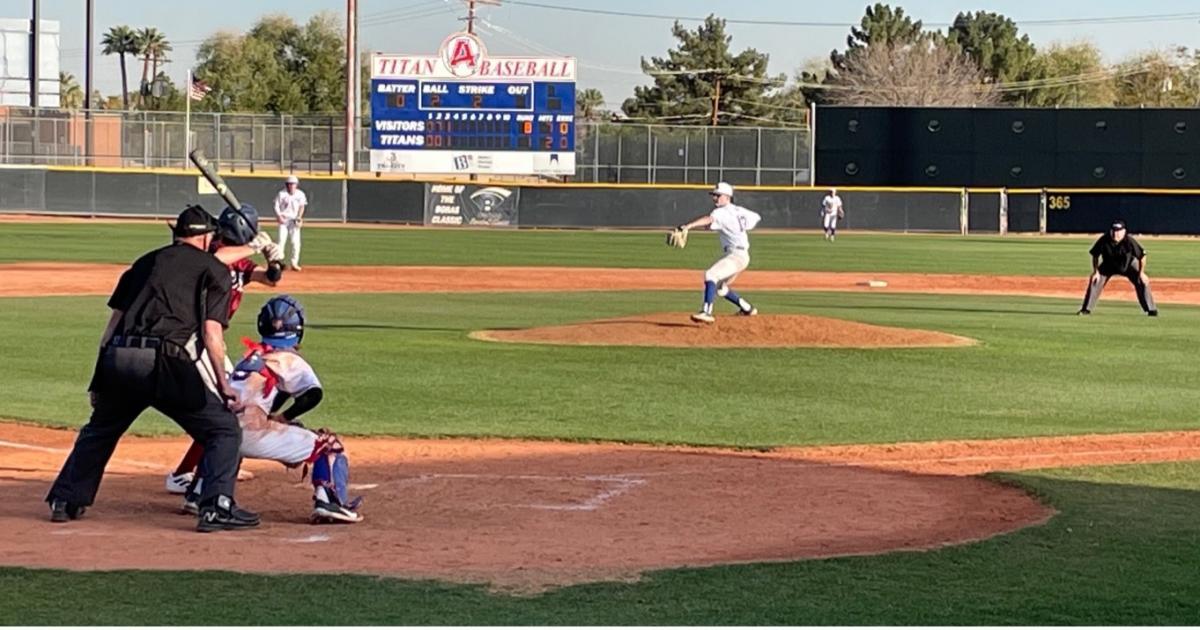 Arcadia can't overcome 7-run 2nd set in home loss to Perry
Arcadia's Jordan Rayda delivers a pitch to Perry High School's Chris Lavin.
Jordan Leandre is a student journalist at Arizona State University assigned to cover Arcadia High School for AZPreps365.com
Arcadia High School's baseball team got off to a rocky start at home in the Adam Donnenfield Tournament, a preseason invite. The game was called off after five innings due to the mercy rule, with the Titans falling to Perry High School 13-1.
Titans starting pitcher Quinn Carrier got two quick outs in the first inning, but his day only lasted three more outs. The junior right-hander failed to get out of the second inning, allowing seven runs — two earned — while walking four and striking out two. He escaped a base-loaded jam in the first, but walks, wild pitches and errors left the second innings spinning. The Titans were down 7-0 heading into their second trip to the plate.
"We made a physical mistake and compounded that with another physical mistake," Arcadia head coach Matt Sugarman said. "We let that get us down."
After Carrier was lifted in the second inning, senior Jordan Rayda came in and got the Titans past the fourth inning without having to make another pitching change.
"[Jordan and I] talked about how he needed to pinpoint his secondary pitches and get them off his fastball," Sugarman said. "That's what really knocked out [Carrier]; his inability to locate his breakup affairs.
Rayda's day also featured one strikeout, five hits and five earned runs. However, the five runs weren't indicative of the way he pitched, as they all came on two hits from Perry's right fielder Stephen Hernandez.
"I just wanted to do my job," Rayda said of her relief efforts.
On the Pumas side, it was a big day for Hernandez, a powerful left-handed senior. He went 4-for-5, hit two homers, and drove in eight of the team's 13 runs.
"When we play well like that, it carries everyone's sticks," Hernandez said. "To me, today was just my day."
The Titans saw an offense materialize midway through the innings, but the killer blow was Hernandez's grand slam in the fourth inning. By the time he added another RBI on a resounding single in the top of the fifth, the game had long been in Perry's control.
"Our pre-game and our bus ride, we were all quiet – just kind of locked down," Hernandez said. "I kind of felt the energy build up from that. Once we got off the bus… we just turned it up and had fun.
The team faced a quick turnaround — a game Saturday at 10 a.m. that ended in a 2-0 loss. The Titans played a much tighter game against the Mountain Ridge High School Mountain Lions. The Mountain Lions went 17-5 last season and won Division 6A Desert Valley, so holding them to just two points is an impressive feat.
Nate Holloran started Saturday's game for the Titans, going six innings and allowing just two runs — both in the first inning — on three hits while striking out five.
Next up for Arcadia is their official season opener Tuesday at Chaparral High School in Scottsdale at 3:45 p.m.