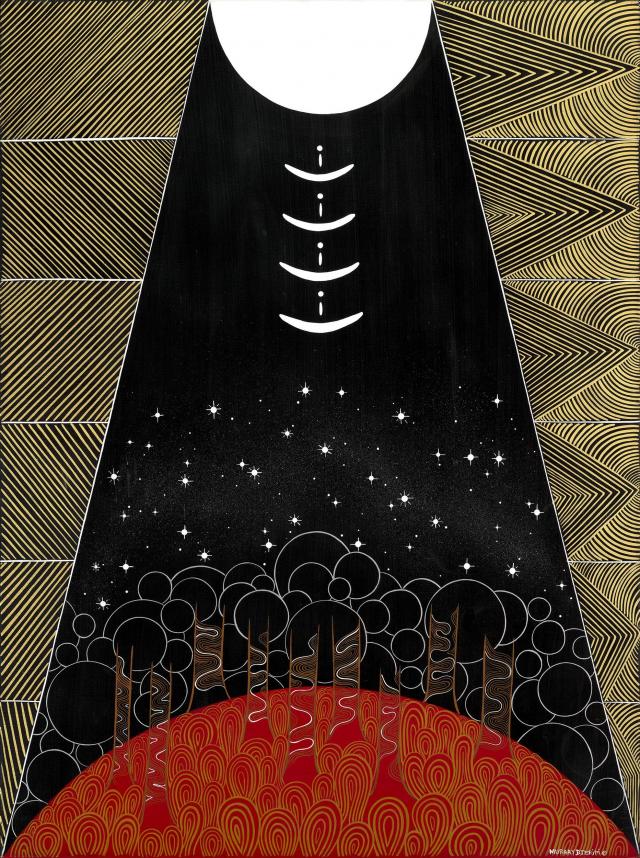 Accomplished Indigenous artist opens gallery in Tewantin
A new art gallery in Tewantin is set to turn heads with the launch of The Re-remembering exhibition on Friday April 1 from 6.30pm to 8.30pm.
The owner and artist of Gaiungan Gallery, Peter Muraay Djeripi Mulcahy, would like to invite you to discover the deep and enduring stories that accompany each of his artistic creations.
This accomplished Indigenous artist is culturally attached, while his fine lines, exquisite attention to detail, and deep, moving stories continue to set him apart.
The Gamilaroi man has been a cultural teacher and professional artist for almost 30 years, where his work has been sold nationally and internationally since 1995.
Mu-raays Djeripi's passion is contagious, and at the heart of everything he paints, writes and speaks is the desire to reach his audience with knowledge gained from elders and spirit.
His works reflect the old in the new, the ancient light from which we have all come.
"My work is not about division, it's not about 'the other', it's about the oneness of the earth and the spirit that we all stand on now," said he declared.
"My creations carry within them the eternal stories of universal becoming.
"Each work is a memory of the time spent with my beautiful elders. Last but not least, they carry the essence and spirit that awakened in the era of Gamil Bidi Wii (the time before the Great Light).
"I believe that, as my elders knew, if only we could remember how great we were, we could rekindle the flames of our future greatness.
"Visit the Gaiungan Gallery to see a story, hear a story, and develop our story together."
The Souvenir exhibition will run until April 30.
Find the Gaiungan Gallery at 11b Tewantin Plaza Store, 113 Poinciana Ave, Tewantin.
For more information, visit gaiungangallery.com.au