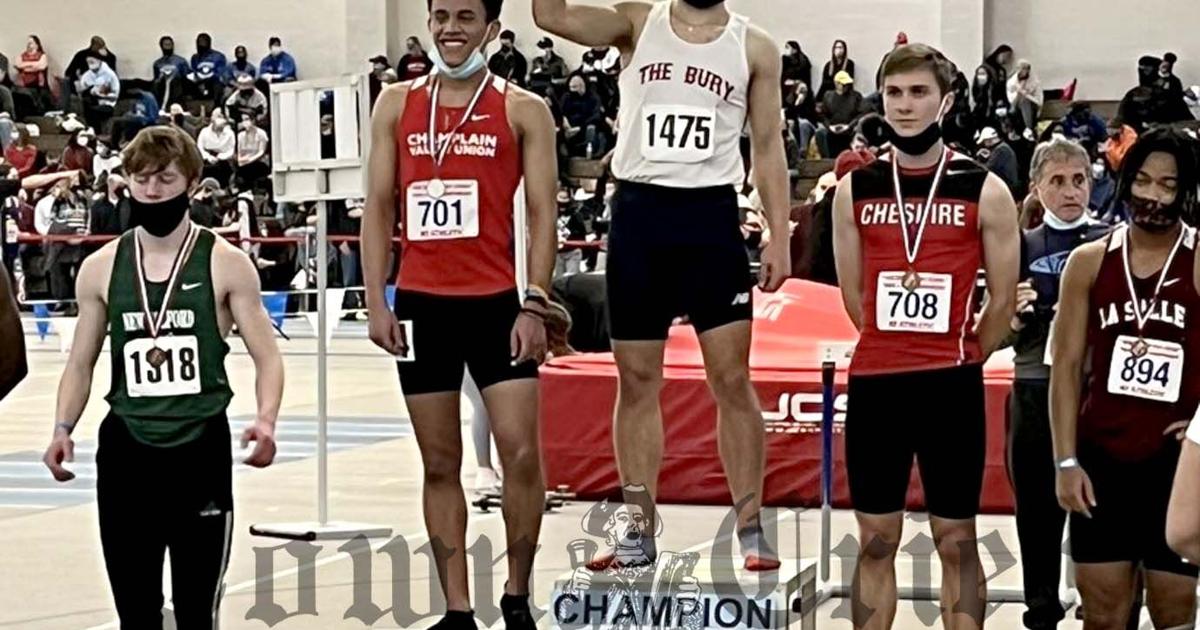 A historic race: First man in the indoor program to accomplish a feat: Arbogast wins the title of NE champion | Sports
ROXBURY — Last May at the Merrimack Valley Conference Outdoor League Championship Meet, then a sophomore, Alex Arbogast was in the middle of his run when he collapsed in complete agony. He tore the quad in his left leg, ending his quest for post-season success and ending his season.
It was a truly heartbreaking day for Arbogast, who a few months ago had his indoor season cut short due to an injury to his other leg.
Fast forward to Saturday. Healthy and determined to make history, the junior became the first man from Tewksbury Memorial High School to win an individual event at the New England Indoor Athletics Championship meet. Arbogast won the 55 meter sprint with a time of 6.46 seconds.
"(All the riders) were all really fast and they all won their 'A' games today," said Arbogast. "I got edged out in the preliminaries like I did last week (at the Meet of Champions), but I didn't let that deter me. (Preliminary heat winner Gregory Searus of Vermont) said my start was really good, but he managed to catch me with his lean at the end. When it comes to the end of a race I usually tend to let go, but that's how I performed in the final. I had to stay until the end. Once I stayed strong, I knew everyone was behind me, so I was really excited about that.
Taking second place in the preliminary round and then first place in the final would never have happened if it hadn't been for a very difficult three-month period, from June to September.
"At first I wasn't even going to play football, but a bunch of my coaches and I all came to a consensus doing track and too much running was hurting me," he said. he declares. "After that injury at the MVC Meet, I went to a physical therapist and was there all summer. I didn't work out until the end of the summer. Walking was a struggle for a while. You'd think tearing up a quad isn't too much (from an injury), but it really was. It took me about a good month (to walk properly). really helped. I didn't race until mid-August," he recalls.
Once he started to walk normally, he was able to do some light exercise.
"I really worked on my agility. I met other trainers including DJ Brock from Acton-Boxboro who showed me some things (former TMHS Track trainer) Nick Parsons helped me with agility things and then we are switched to football, which was something new for me. I took off there and my body was in good shape once the trail started.
After rushing for over 800 yards and scoring nine touchdowns, Arbogast swapped his football helmet for his running shoes and since day one he's made it his mission to win, and that's all he has. made. He won the 55 and 300 meters at the MVC Meet, won the 55 meters at the D4 Eastern Mass Championship Meet, then was a runner-up at the All-State Meet, losing to Jonas Clarke of South Hadley, who is also the No. 1 nationwide. Clarke opted out of competing at the New Englands, which certainly helped Arbogast, but certainly didn't take away from what he achieved.
"I was a little anxious with all these new faces. There are only three people from Massachusetts including me. The best runner in the state was not there. It gave me an advantage. I got to meet a lot of new people and that was great. That's my favorite part of being here and being in this sport, just meeting new friendly people," he said.
Even though he finished second in the trials, Arbogast said he knew he had more in the tank, but he wanted to make sure he didn't deviate from the game plan.
"(My plan) was to just execute and stick with the training that my coaches put me through all season. Coach (Jill) Paige gives me the workouts. She's with me all the time and he's the best coach I've ever had. (Former) coach Nick Parsons helped me over the summer to condition myself after suffering a few injuries last year. the world has been ready to help me and I love it," he said.
First-year head coach Lauren Polimeno was thrilled after watching Arbogast cross the finish line first, and minutes later hold the trophy for first place on the podium.
"Alex's performance was very impressive. He started much faster in the preliminary race than he did last week (at the All-States), so that was a good sign. Then he gets 6.46 (seconds) in the final (it was his best). He seemed to run really, really well. I knew he was fast but I didn't know he was that fast. I am very happy for him. He deserves all the success he deserves. He really deserved it, he has a great work ethic and he really cares about the sport.
"Coach Paige is mainly responsible for his training so all the credit goes to him. We've done a lot of speed work and that's mainly what our practices are based on. He can definitely improve in terms of endurance to improve his time in the 300 meters, but his main focus is the sprint, and he really did it today and I'm so happy for him and proud of him.
Arbogast added that he was just proud to be part of what has become a dominant day for the VMC.
"I was seeded third and knew Massachusetts had the fastest runners and my confidence (soared) after watching Andover's Jodi Parrott win gold in hurdles (girls) and Jordany Vazquez of Lawrence won gold in the hurdles (boys). We really represented MVC today," he said.
The first title comes just a year after two horrific injuries and two years after thinking about stepping away from the sport.
"In the first year, I tried to stop the sport. I didn't like it, but I'm really glad I listened to so many people who told me to stick with it. I wasn't in the right frame of mind and I didn't like (track). Then the coaches and people like Zach LaLonde and Alex Lacerda picked me up and pushed me forward. I'm really grateful for that.
"My biggest problem now is (the program) recruiting and using that momentum for the outdoor season. We need more numbers (for the men's team) for the outdoor season. Hope this helps bring out more kids for the team. I want to show them what I do, especially as a football player where competing on the track has helped my football speed. I hope it will do the same for them, that way can distance people on the football field. I hope other people will recognize it.